If you hear your window air conditioner making a clicking noise, it's probably from the fan obstruction. This situation is due to the fan blades every time they hit the air conditioning unit's body. It's commonly caused by any strange objects or other obstacles that might be blocking the fan blades.
However, if the window air conditioning makes a clicking noise and shuts off, this could indicate errors with the compressor. If this happens to you, your air conditioning unit fails to run the system.
Why Is The Window Air Conditioner Making Clicking Noise?
Loose Bolts
If you use the air conditioner for a long time and run it daily, this could result in loose bolts. When this occurs, the compressor will be hard to turn the unit on as a strange object is blocking the system. Meanwhile, the friction of loose bolts makes the unit is noisy.
Other than that, the refrigerant tubing that hit the unit's frame will also bring out a continuous clicking noise. When you see this situation happen, you can try fastening the loose bolts and cleaning up excess debris inside the unit.
Control Board Has Reached Its Maximum Mode
Another reason behind your window air conditioner making clicking noise is a problem with the control board. As you try to turn the unit on, the clicking noise that kicks in indicates a signal to the control board to turn the system running in maximum mode.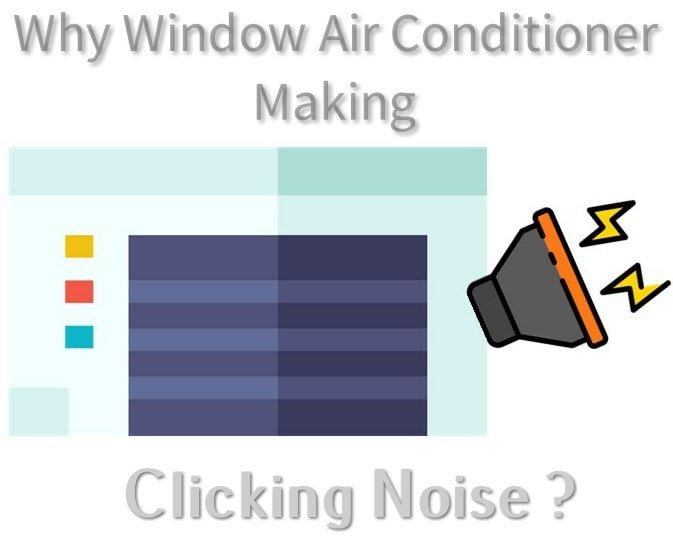 But, the turning-on failures point out an electrical problem. The system can't be executed because the capacitor conveys any faulty. In this case, we don't recommend you try fixing them by yourself. Instead, call for a professional air conditioner technician to do the repairs.
Window Air Conditioner Making Clicking Noise While Off
You might be wondering why your air conditioner keeps making clicking noise even though it's off. We know it's uncommon and as strange as it could be. But worry not, we've got you.
Yes, we understand how scary it is to hear a loud clicking noise from your window air conditioner even though you don't turn it on.
For that reason, here are the possible reasons behind the odd sounds from your window AC unit and how you recover them.
Why is The Unit Keeps Being Noisy While off?
Loose Fan
First of all, you need to check if the clicking noise appears every once in a while or all season long. If you hear them constantly, your unit may try to relay a loose fan.
The long and daily usage of the air conditioning unit will affect the fan, especially under low maintenance. Even though the unit is off, the fan still moves inside the AC. As it keeps moving, the clicking sound accompanies each inch of the movement.
Thermostat Failures
If you have checked your unit and found no loose bolts or components, we recommend that you ensure that your thermostat still works properly.
When you run your unit for years, and it still works just fine, somehow the thermostat might have not. The thermostat is such a crucial part of the whole unit, which will affect its performance. If it struggles in functioning the system normally, it could produce clicking noises.
Conclusion
All in all, strange things could happen to your window air conditioner even though it's in off mode. Keep in mind that these things might appear to the old models, the unit with low maintenance, and the unit that has been worn out because of long time usage.
Overall, the best attitude in having an air conditioner is faithful to the maintenance. If not, you will face strange problems such as the window air conditioner making a clicking noise. We hope you find this article helpful and can quickly address the issues inside your unit.
Still, professional help is needed to give the best diagnosis and repairs.
Do you ever feel one of these situations? How can you overcome them? Feel free to write down your experience on this case if you have one.