Did you know that you can secure window air conditioner without screws?
You might be questioning yourself if it's possible. Moreover, you have heard from mouth to mouth about this method. This article will help you answer the questions that keep running inside your head.
Having a window air conditioner comes in handy. It's budget-friendly, compact, and perfect for an apartment or little condo. However, it needs a lot of screws to ensure the unit is installed correctly on the window. This situation could be a big consideration for you because it would damage your window or the construction of your little condo.
Worry not, you can install your window AC unit safely, even without using screws. Luckily, we have summarized these simple steps for you. Let's find out!
How to Install Window Air Conditioner
You need to look at installing the regular window air conditioning unit first before jumping to no screws installation. This type of AC unit is easy and convenient to set up.
As it's supposed to cool down one room only, make sure you choose the right room to enjoy a chill day. Once you decide the room, you can check if your unit fits the room. Picking the right size will help you get the best experience yet in low maintenance.
Step 1: Put The Window AC Unit Centered
First of all, place the seal around the base of the window.
Remember to keep your window AC unit and the opening of your window centered.
This will help you to pull out the vents from each side and avoid the air break free from the side of your unit.
Step 2: Use Screws
When you're done putting the unit, use two screws along the upper flange into the windowsill.
Next, use another small screw to prevent the wood from splitting. You may need a masking tape to restrict the screw when drilling.
Lastly, you can fill the gaps of your unit and the window with foam fillers. Use one if your window AC unit is enclosed with them. If not, you can buy them separately.
How to Secure Window Air Conditioner Without Screws
Not all window air conditioners are made to be installed without any screws. So it's crucial to purchase one where the screws are not essential. Besides that, picking the right size for your room is also as important.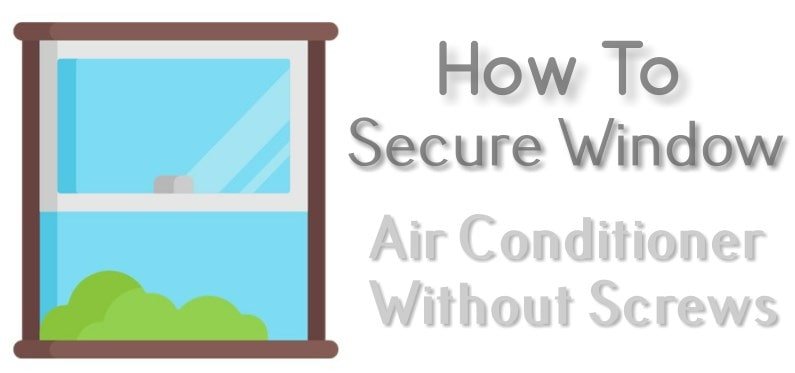 Here we conclude the easy steps to secure your window air conditioner unit without screws. Let's read on!
The Easy Steps to Secure Window Air Conditioner without Screws
Find the center point between your unit and the windowsill.
Then put the provided seal along the line you've got.
When you're finished, install any other provided parts as mentioned on the instructions book.
Next thing you'll do is to take a look at the width of gaps between your AC unit and your window.
Set the provided side panels which you can adjust at the desired width.
After this process is finished, fasten the side panels with tensioning screws. Don't forget to check if the window is covered completely.
Lastly, you will need to install a support bracket by hooking them on the inside to the windowsill while slightly tilted on the outside. This will save you from any water dripping down to the floor.
In conclusion, it's possible to secure window air conditioner without screws. But you must use a suitable quality support bracket to keep your unit and condo safe. The frame will also allow you to live in peace as you don't have to worry about the unit falling on someone's head.
If you are still confused or see this method as impossible, we bet you to watch some video tutorials. There are plenty of videos of securing window air conditioner units without screws around the net.
So, after you learned how to secure window air conditioner without screws, what are your thoughts? Are you interested in doing this to your window air conditioning unit?
We would love to hear your insights and experiences!