Just like any other electronic appliance, you might be asking how to reset your Mitsubishi air conditioner. This action is needed after a power outage in particular.
A reset is required when the air conditioner happens only to blow the warm air even though it's set to cool mode already. With that being said, a reset is caused by the unit not blowing the cool air inside your house. The Mitsubishi AC unit seamlessly integrates with the home's HVAC system to provide efficient and consistent temperature control.
Some companies build their unit more innovatively, while others still hold the old-fashioned reset system. Typically, it's such an easy task as you only need to push the reset button to remove all the power in the unit.
How to Reset A Mitsubishi Air Conditioner
Step-by-Step Reset
If you're still clueless on how to reset Mitsubishi air conditioner, we summarize the step by step by the following below:
Step 1: Turn the indoor unit off
This step is pretty straightforward. Click the power button on your remote control just like you do it regularly.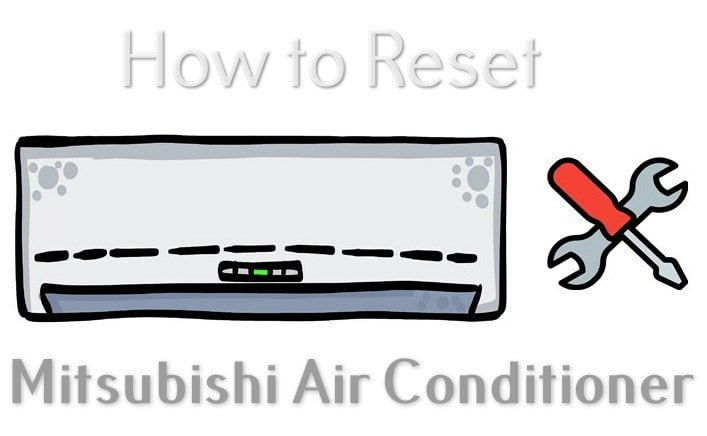 Step 2: Power down the breaker
Start by locating your circuit breaker or reset button on your Mitsubishi air conditioner that is connected to the outside unit. Most Mitsubishi air conditioner comes with this reset button.
If you have a hard time finding the button, try opening the circuit breaker box to help you detect the breaker position. These reset buttons appear in small sizes with red color. You may also need a user's guide manual book for a quick reference.
Once you find them, you can switch the breaker off by pushing them from 3 to 5 seconds. Then the power will be removed from the air conditioner.
Step 3: Hang On for 30 Seconds
Mitsubishi air conditioner is not built to immediately reset the internal circuit breaker even though the outside breaker is in off mode.
You should wait for about 30 seconds to allow the inside breaker to reset itself completely. After that, you're able to turn it back on.
Step 4: Turn The Unit Back On
Lastly, you can turn the unit back on by pressing the power button on your remote or thermostat. Your air conditioner is now fully restored.
In this step, you may check the settings on the remote based on your likings.
Call The Technician
Not all reset method is working. You could be having this sign where you don't see any lights popping up from the air conditioner.
In case this happens to you, several factors often cause this. First, there could be a blown a fuse on the air conditioner. Second, there's a slight chance that the circuit breaker tripped shortly after resetting the unit.
Particularly, there might be a clogged filter, loosened wiring, refrigerant leaks, and more errors. Sadly, this could only be fixed by a professional air conditioner technician.
In some cases, though, the outdoor unit will take about three minutes to start operating back normally. Few will also see "Please Wait" message on the remote controller. This action indicates the settings that are related to the three minutes of waiting.
So, if you feel the guide on how to reset Mitsubishi air conditioner like a good idea, you might want to give it a shot. But otherwise, we recommend you to contact the air conditioner technician for a lookout.
AirconMag is an experienced author and Air Conditioner expert. With years of practical experience in the field authored several informative articles on various aspects of AC unit, including installation, maintenance, and repair